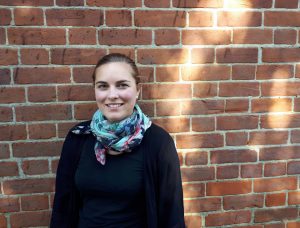 GUARDA is delighted to welcome Manon Chevalier to our growing team. She is a talented landscape architect with six years post graduate experience in Spain, France and the UK.  
She complements the rest of the team by providing technical and site experience, previously graduating as a landscape engineer in Angers, France. She has worked in design and build teams to implement projects on the ground and she engaged in stakeholder liaison and technical detailing for the Rive-de-Gier Park near Lyon and hard and soft landscape proposals for the Myosotis Street in Nantes. She also co-designed and implemented a show garden for the International Garden Festival of Chaumont-sur-Loire.
Manon is currently working on the International Finance Centre in Jersey, where Trenton Square has just reached practical completion and Building 6 will be starting on site soon. She is also a member of the St Helier Esplanade Masterplan team, which aims to link the town centre with the magnificent seafront and Elizabeth Castle outlook.
We are especially happy to have her in the office as she is a very approachable and dedicated professional, plus she makes a great summer Frappé!
You can contact Manon on 01206 638085 or email her at [email protected].